Rabu, 21 September 2011
Contest Blog Paling Colourful
Assalammualaikum. (=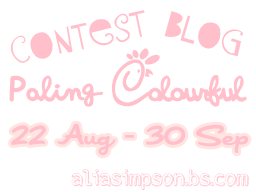 3.Must have a blog.At least one :P

5.Make an entri dengan tajuk Contest Blog Paling Colourful ,ambil banner kat atas sekali.

6.Bagi link entri korang dengan cara komen entri ni.

7.Tag 1 kawan yg korang kenal.

8.Korang diberi 40 hari untuk edit blog supaya nampak colourful.

9.Contest akan terbatal if kurang daripada 5 org yg join.
Tag: -
Erin
Label: Contest
About Me
Blogger from Malacca-Bangalore. Was born in 1997. Blogging since 2008. Full time dental student and part time blogger. This blog is a little place where I express my feelings and memories. I'm sucker for cute things and beautiful words. Feel free to join my journey through out life and leave your advices or thoughts at the comment section or chatbox. Love, Ain Nadzri.

Tutorial:Blockquote

Tutorial:sparkle cursor

Tutorial:highligt text and print screen

Tutorial:disable right click

Tutorial:Scroll dalam n3

Tutorial:edit blog menggunakan klasik html@ xml?

Tutorial:hover berpelangi

Tutorial: Meletak Favicon@icon dblog

Tutorial: Meletak button comment dN3

Tutorial: Meletak HTML dN3

Tutorial:Salji dalam blog*new*

Tutorial:Letak Button Facebook Like di Blog

Tutorial:Letak Facebook Share Button di Blog

Tutorial:Cepatkan loading blog guna Jquery Lazy Load

Tutorial: floating menu bar jquery

Tutorial:Buang Underline bawah Link

Tutorial: Blog Archive Calendar Version

Tutorial: Buang navigation bar